TT PLOTT CUBIT SMART VR MEASURING TOOL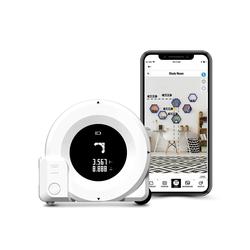 Accuracy:

5/32" for every 30-ft

Color:

White

Series:

TT PLOTT
From idea, to virtual, to reality -- Cubit and the Lets Plott app eliminates the headaches and hassle, from measurements and calculations, making it the perfect tool for the rookie to the veteran DIYer, allowing more time bringing ideas into reality. Cubit paired with the app enables you to measure and design projects completely in AR. Letting you see exactly how something will look before you purchase and install it in your home. Cubit can be used to get all the measurements of your project to ensure the highest accuracy then when everything is designed will actually take you to the exact points of installation, letting you know where every nail, screw, or mark needs to go!
Laser: Accurate Within 4mm for every 10m (5/32" for every 30')
PLOTT CUBIT SMART VR MEASURING TOOL
Wheel Measurer: Accurate to 0.02% in Lab Conditions 
Dual (2) Axis Lasers Measure Height & Width At The Same Time 
Connected App Guidance Takes You To Points of Install
Dual axis (X & Y) lasers to calculate area with one click.
Wheel roller to measure any irregular surface or shape.
Takes continuous measurements.
Bluetooth enabled for connectivity with the LetsPlott app on iOS and Android devices.
One Year Standard Manufacturer's Warranty.