3M™ PROTECTA® Cable Tie-Off Adaptor 2100193, Silver, 6 ft. (1.8m), 1 EA

3M™ PROTECTA® Cable Tie-Off Adaptor 2100193, Silver, 6 ft. (1.8m), 1 EA
DBI2100193
MFG #: 2100193/ 70007658167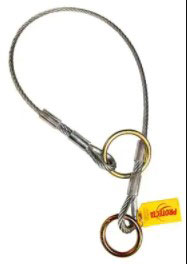 High strength and durability to stand up to the toughest environments Anchorages are sold by what they connect to (general/all purpose, steel, concrete, roof or specialty), whether they are fixed or mobile, and whether they are permanentor portable. They all must provide a secure point of attachment for a complete personal fall arrest system, and must be capable of supporting a load of 5,000 lbs. (22kN) or of meeting OSHA's criteria of a 2 to 1 safety factor.
DBI PROTECTA 6FT CABLE TIE-OFF ADAPTER, SILVER
Pass-Through/Choker Type. 6 Ft. Tie-Off Adapter with Durable 3/8" (7x19) Galv.Steel Cable Construction, High Strength Steel O-ring Hardware. High Weight Capacity of 310 Lbs. Meets ANSI & OSHA Specs. A Fast & Safe Tie-Off Point for Fall Protection Systems.