3M™ High Capacity Battery TR-332, for Versaflo™ TR-300 PAPR
3M™ High Capacity Battery TR-332, for Versaflo™ TR-300 PAPR
3MS17364
MFG #: TR-332/ 7000052903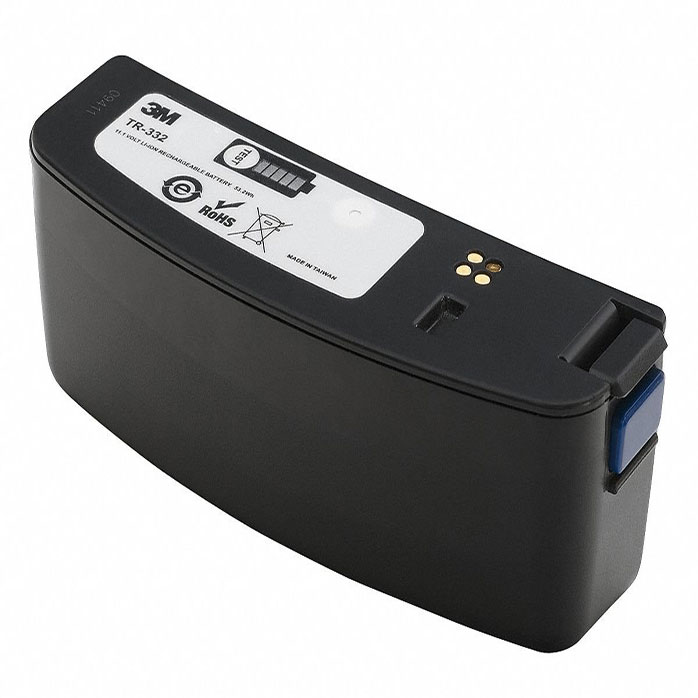 3MTM PAPR Battery Packs are designed to deliver consistent power over their expected service life. Current cell chemistries used in rechargeable 3M PAPR battery packs are nickel cadmium, nickel metal hydride, and lithium ion
Run time with new battery pack, clean filter and fully charged is approx. 8-12 hours
Battery pack capacity can be checked by running the PAPR motor/blower unit with appropriate filters/cartridges and the airflow indicator installed and recording the time until the airflow falls below six cubic feet per minute for loose-fitting headgear, or four cubic feet per minute for tight-fitting headgear. The TR-330 and TR-332 capacity also can be checked directly with the status indicator on the battery pack.
Do not attempt to discharge the battery pack by short-circuiting.
For long-term storage, disconnect battery pack from the motor/blower unit.
High Capacity Lithium-Ion Rachargeable Battery. Recharge time is less than 3.5 hours
The TR 332 is a high capacity Lithium Ion battery pack for the 3M™ Versaflo™ TR 300 PAPR. Compatible with TR-300 Series, TR-300N+ Series
Always read and follow the User Instructions that accompany the battery pack and charger.
Use only the 3M charger(s) specified for that model battery pack.
Battery pack capacity may be reduced if stored or used in high temperature environments or near radiant heat sources.
All rechargeable 3M PAPR battery packs can be charged any time during the discharge cycle. Battery memory (also known as voltage depression) is not a significant factor.
Do not allow water to enter the battery pack receptacles. Water will damage the battery assembly. Battery packs can be cleaned with a damp cloth and mild detergents. Solvents and strong detergents may damage the battery pack case.
Do not charge battery packs in an enclosed cabinet without ventilation. Do not stack batteries together or on top of charger when charging. Heat naturally generated during charging may damage battery pack cells and must be allowed to dissipate.